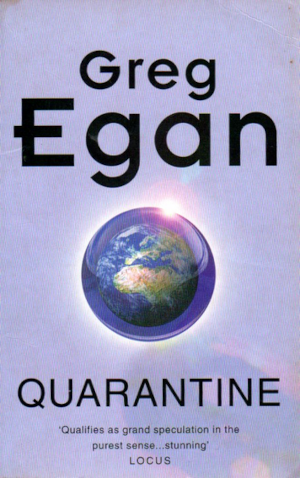 Quarantine
By Greg Egan
Score: 4/5
A near future Earth, cut off from the rest of the universe by a "bubble" in space blocking out the stars and any access to the universe beyond the solar system. A future Earth where brain modifications ("mods") are easily bought and installed, giving the user ways of taking a call in their sleep, suppressing boredom or even bringing a visible and audible avatar of a dead partner to life. Maybe an idea installed: something that becomes a central part of who you are. However, this is the least of it in Greg Egan's novel. It gets even stranger: quantum physics strange. What is the quantum wave function and what does it mean when it "collapses"?
If you know what Schrödinger's Cat is, or a bit about Quantum Physics (the strange and sometimes outlandish theory of the subatomic world) you might think you have an understanding of what's in store: you might need to think again.
I enjoyed reading this but must admit that the speculation was tough going on some occasions (also: I have a Physics Degree). Quantum Physics is a very successfully theory of the world but also notoriously difficult to understand on many levels (beyond the mathematical equations). This is definitely not your average "speculative" fiction book, science-fiction or otherwise and Egan has form; he is not afraid to consider the stranger aspects of science and where it leads. It can be mind-bending stuff, so great fun sometimes but also hard to follow on occasion.
This is definitely not a book everyone will like; probably a book only a few will manage to get through perhaps. But for those that like their science-fiction to have harder "science" in it, you can't beat Greg Egan's novels and I would highly recommend you have a look at Quarantine. Especially if you are interested in the ramifications of Quantum Physics.