Mon, 16 Apr 2018
Monet and Architecture
Perhaps I was starting to get a little jaded with the art of Claude Monet: too much impressionism recently perhaps. His work's been central to a couple of big, recent shows: The Tate's Impressionists in London and the Painting the Modern Garden exhibition at the Royal Academy a couple of years ago. Of course, once you get to see the new Monet and Architecture show at the National Gallery, all that quickly falls away as you see, once again, how good he always is. Never mind that he is not really painting architecture or buildings, but light and atmosphere.
At the Impressionists in London, I was struck by a sequence of paintings he made of the Houses of Parliament, a subject he actually treated in a similar way to his famous haystacks. Seeing a few side by side was striking, and a similar feeling at this new show with a sequence of paintings of Rouen Cathedral. A great and prolific artist and always worth seeing.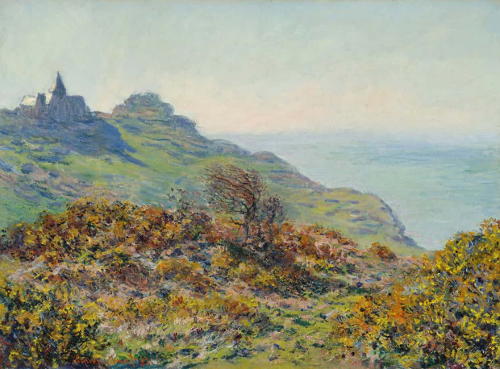 The Church at Varengeville and the Gorge of Moutiers
, 1882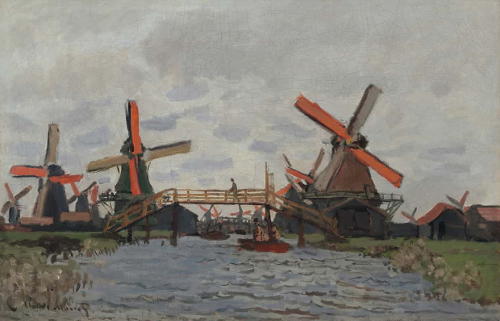 Windmills near Zaandam
, 1871
Sat, 14 Apr 2018
Over the Mountain
The BBC adapted Lewis Grassic Gibbon's book Cloud Howe for the radio a year or so ago. On the web page, it used a lovely photograph of a Scottish scene: mountain, cloud and croft. I thought I'd try and paint it. The play of sunlight and shadow on the mountain and the low clouds rolling over the distant peaks really make the scene beautiful.
I think it came out quite well.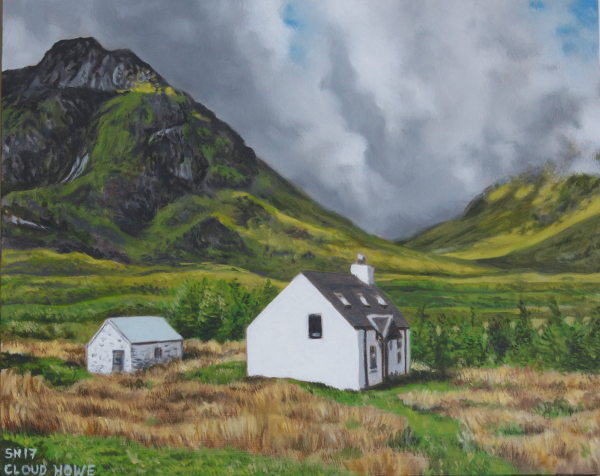 Above:
Cloud Howe, Oil, 8x10" (?), 2017
Sat, 07 Apr 2018
Watercolour 2018
Well, it's Venice again, but a beautifully atmospheric take on the city by watercolour painter Martin Caulkin. As seen at the Mall Galleries today at the Royal Institute of Painters in Water Colours 206th Exhibition :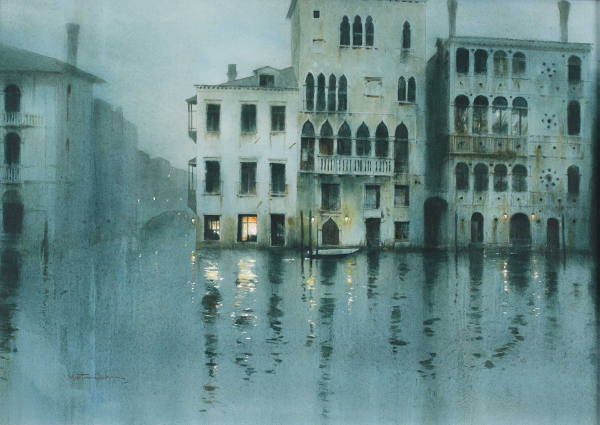 Above:
Venice Night
, Martin Caulkin RI, watercolour, 52 x 69cm
The exhibition was very good with many very good paintings as usual.
Sat, 31 Mar 2018
Building the Terrorist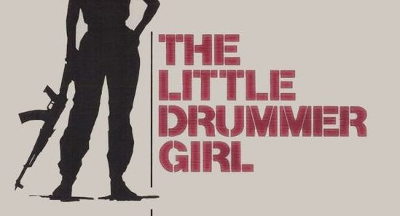 The Little Drummer Girl
By John Le Carré
Score: 5/5
The secret world is of itself attractive. Simply by turning on its axis, it can draw the weakly anchored to its centre.
Stepping away from the British secret intelligence agencies and into the world of the Israeli/Palestinian conflict, Le Carré creates a beautifuly crafted story about the hunt for a bomb maker blowing up jews in Europe. I've read that some people don't think Le Carré can write female characters but this book shows that as false. Charlie is a perfectly crafted and realised lead, a left-wing actress who has flirted with a few more extreme wings of the movement, although more a fellow traveller than someone of true conviction. You can hate her and her superficial justifications on one page and love her vulnerability on another. As usual, there are wonderful set pieces and exceptional characterisation. The "interview" she is given before accepting the job (an interrogation really) is a marvellous piece of sustained, taut writing.
We are not speaking of some enchanted forest. When the lights go down on the stage, it will be night-time in the street. When the actors laugh they will be happy, and when they weep they will very likely be bereaved and broken-hearted. And if they get hurt - and they will, Charlie - they will surely not be in a position, when the curtain falls, to jump up and run for the last bus home. There's no squeamish pulling back from the harsher scenes, no days off sick. It's peak performance all the way down the line.
Through Charlie, Le Carré also produces a peak performance.
Sun, 11 Mar 2018
Down by the River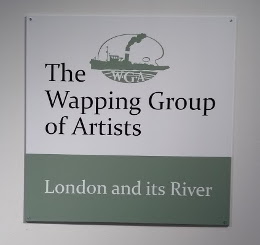 I work in Wapping so was interested when I saw there was a group of artists calling themselves The Wapping Group of Artists. The Mall Galleries had an exhibition of work from them this month and I caught the last day.
Mostly paintings near the Thames but not too many from Wapping itself (a pity). A lot of very good work on display from a group of talented plein air artists.
Right: Outer Pool, Robin Mackervoy, Oil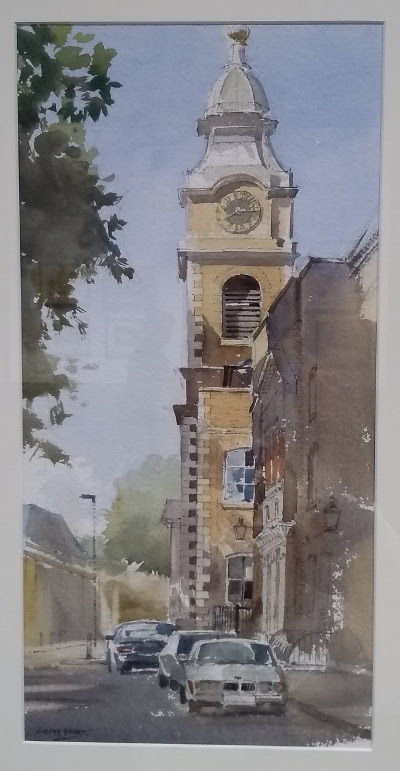 Right:
The Old Church, Wapping
, Geoff Hunt (I think!), Watercolour
This is an iconic Wapping building that I work close to. Beautiful in the sun and the quiet streets.
Thu, 22 Feb 2018
The Big Pictures

A couple of weeks ago I went to see the new Royal Academy exhibition Charles I: King and Collector. Last week I went to the closely related exhibition Charles II: Art and Power at the Queen's Gallery. Both are showing stunning works but the RA pips the award for the greatest display, even though it's almost twice the cost.

The Royal Academy has some very large rooms and they are needed here, for some of the work is monumental. In particular, there are the nine huge Mantegna canvases of the Triumph of Caesar (c.1484-92), bought from the Gonzaga's of Mantua when they hit some financial difficulty at the start of the 17th Century. Charles' man Nicolas Lanier added these to the collection for his master.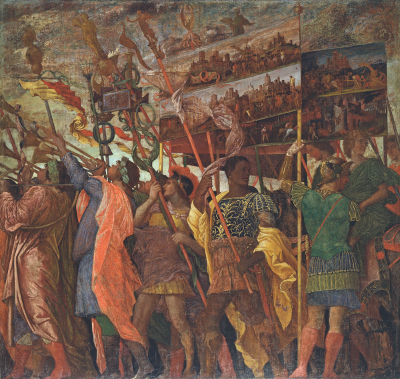 Right: Triumph of Caesar: The Trumpeters by Andrea Mantegna, c.1484-92
See : The life of Charles I: King, collector, tastemaker, traitor by Jenny Uglow.
Who can argue with such greats as Holbein, Van Dyck, Rubens, Rembrandt, Titian and Veronese? To name but a few ...
Coincidentally, a BBC TV show was on recently about the setup of the RA exhibition, available via the BBC iPlayer : here. It is always fascinating to see how much work goes into this type of show. Great royal propaganda recently
Tue, 06 Feb 2018
Three Body Problem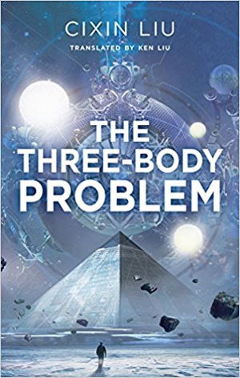 The Three Body Problem
The Dark Forest
Death's End
By Cixin Liu
Score: 4/5
I really enjoyed this science-fiction trilogy by Chinese author Cixin Liu. It's full of amazing ideas in physics, maths, space, cosmology and philosophy. As a novel, it is sometimes a little clunky, especially the characters, who are often very thin, but the dazzling speculation keeps everything moving. The first book of the trilogy, The Three Body Problem, was good enough to convince me to pick up the next in the series, although I procrastinated. Unusually, I thought the second and third books were better. I let the Chinese names wash over me occasionally, knowing I would get used to them, and went along for the ride.
These books are definitely a bit "science nerdy" in (quite a few) parts, but if you like science and cosmology, that's a plus point. This is first contact with aliens and the consequences for Earth over the following decades and centuries: the aliens are invading, are on their way and have managed to sabotage Earth's scientific progress in order to make conquest straightforward. It turns out that the crux of the book is that the universe is not only full of life but that everyone is keeping their heads down. It is a very dangerous place (a "Dark Forest"). Not an entirely new concept but told well, and with a Chinese spin that's fresh. There are a lot of unexpected and wild twists, and slightly fresher perspectives.
It's entertainment but also educational as well, and might kindle an adult or adolescent interest in science and technology. If you like the idea of wondering what multi-decade human hibernation would be like, a fourth-dimensional space, the ultimate type of prisoner's dilemma on board a space warship or just how "magic" advanced technology might be, this is the book for you.
I am now looking forward to reading a book of his short stories: The Wandering Earth.
From a Wired article :
When Cixin Liu's The Three-Body Problem was published in English in 2015, it became the first Chinese sci-fi novel to win a Hugo award. President Obama took it on holiday. Mark Zuckerberg recommended it on Facebook. Yet even as his reputation spread, Liu, 53, continued to work in a power plant in Shanxi Province.
Sat, 27 Jan 2018
The First Night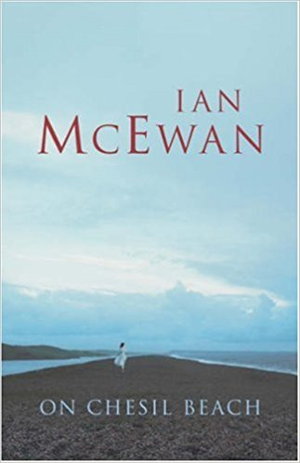 On Chesil Beach
By Ian McEwan
Score: 4/5
A typically well written book by McEwan but a very uncomfortable read. A frank exploration of the wedding night gone wrong. You cannot trust cover quotes in general, but on a McEwan book, a little more perhaps and the quote from the Independent on Sunday is "Wonderful ... Exquisite ... Devastating", which sets the tone.
Very powerful but also dreadful, in that I can't say I enjoyed reading it because it was so painful. Love can drive people to do the craziest things, as can physical desire and both are very powerful emotions that can overwhelm everything. How can one person know what another truly feels, if they don't say?
Thu, 25 Jan 2018
Almost There
The end of January, that is.
It's amazing how fast time flies but some months can be more interminable than others. The New Yorker magazine has a great cover for January 2018, as seen linked at Ann Althouse's blog :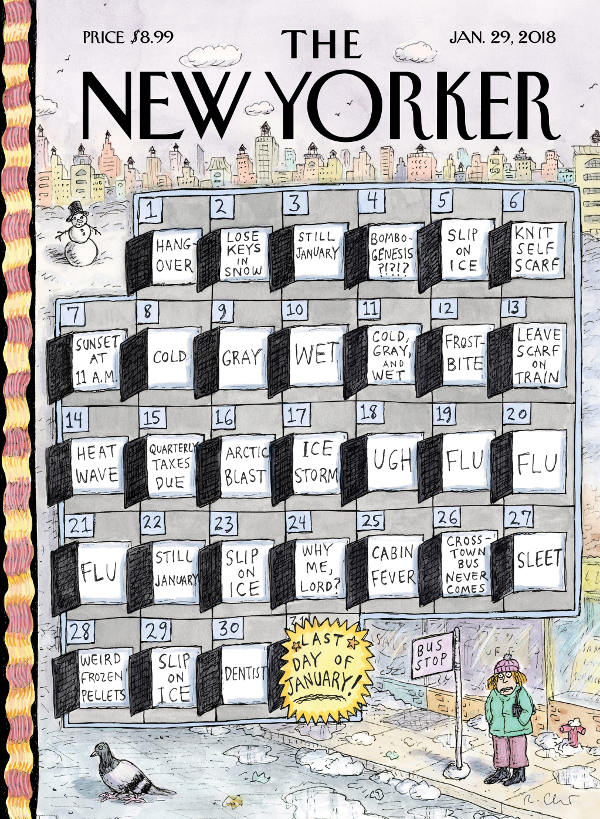 Mon, 15 Jan 2018
The Shadow of the Past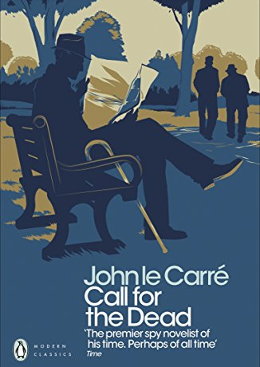 Call for the Dead
By John le Carré
Score: 4/5
This short novel is from 1961 and the first of le Carré's spy books, and the first to feature his recurring character George Smiley. The novel concerns the apparent suicide of a Foreign Office worker after a brief interview by Smiley himself. The fall-out from this leads to deeper problems, including the uncovering of a spy.
Like all the le Carré's books I've read recently, I enjoyed all of this. A lot of the background to Smiley is here, as well as incidents and people mentioned or met in later books. Some scenes, like the teasing out of information at the Repertory Theatre by the policeman Mendel (another great character himself) are absolutely wonderful. Le Carré is masterful when writing minor characters and how they speak and act (it's quite amusing as well). Helpfully, Smiley takes his time to sit and painstakingly list the facts as known at one point, so we also know where we are again. A whodunnit and detective book as much as a spy novel and another great read.
Sun, 14 Jan 2018
Virtual Modigliani
I went to the Tate Modigliani exhibition again, and this time I had a look at their virtual reality reconstruction of his Paris studio. As I was there early, I went straight in. The Tate web site describes it and also has a Youtube video showing how it was done.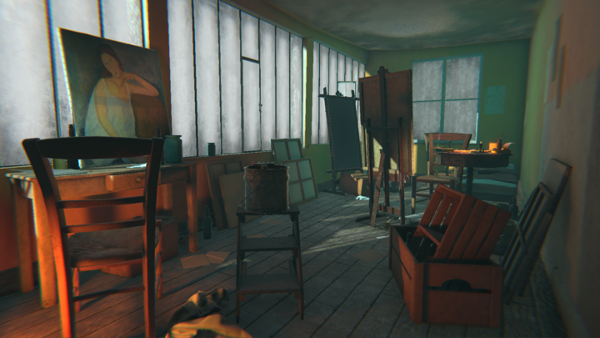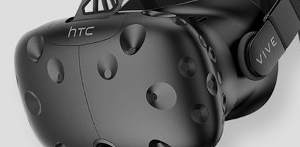 Using an HTC VR headset, the experience was pretty good. The headset was fairly comfortable and not too heavy, and the display and rendering of the VR world believable (almost). Even down to the specks of dust in the sunlight (a nice touch) and the cigarette smoke drifting up from the ashtray. Could have used a bit more resolution perhaps, but it was well done.
Sat, 13 Jan 2018
In Time and Silently
If you're near Dundas Street in Edinburgh, pop into the Scottish Gallery and have a look at Philip Braham's paintings. Very interesting pictures I'd love to see in real life.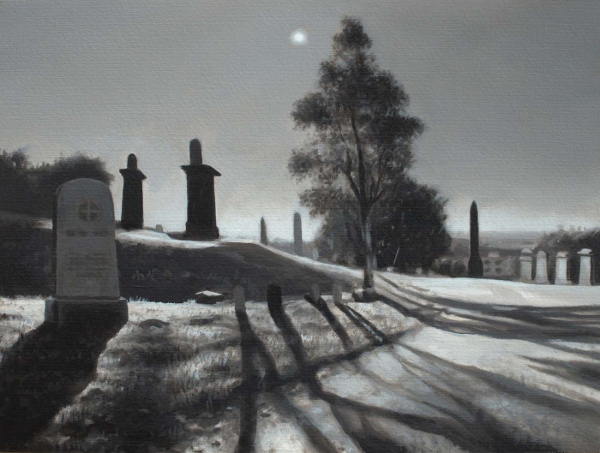 Above: Sighthill Cemetery (after Muirhead Bone),2017,oil on Fabriano Pittura Paper,30x40cm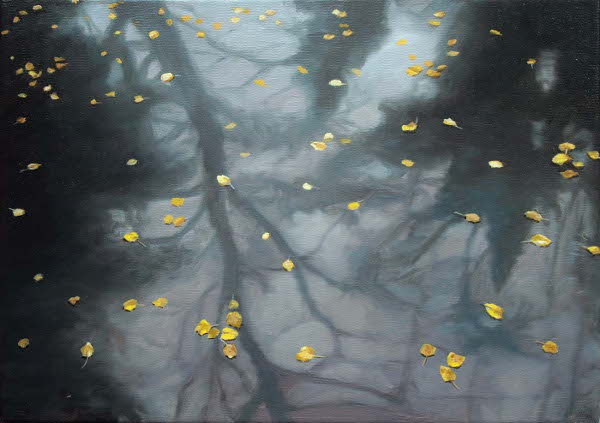 Above: Leaves in a Pool,2016,oil on linen, 25x35cm
Thu, 11 Jan 2018
Arachnophilia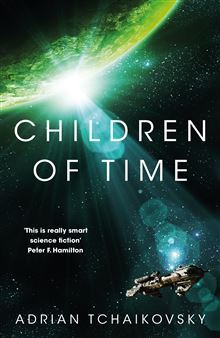 Children of Time
By Adrian Tchaikovsky
Score: 5/5
I was not far into this book before realising how good it promised to be and it did not disappoint.
One of the best books, let alone best "science-fiction" books, I've read. A story that spans a couple of thousand years, interrupted every now and then for the humans as they wake from suspension aboard their "ark" ship in deep space, and check up on things, or make their plans. Time is also a central character when you travel interstellar distances, with the possibility of generations being born and dying, sleepers aging at vastly different rates depending on their wakefulness and activity and lots of changes occurring. Both aboard a spaceship and on a planet.
Tchaikovsky's written a novel that really gripped from the start, in surprising ways. A novel that was exciting, thought provoking and beautiful, with more than one moment leaving me feeling astonished. This is really good. The ending itself was wonderful and inspired. Books like this come along rarely and I think I could easily recommend it to everyone, even the arachnophobes.
Mon, 01 Jan 2018
London Impressions
Here's to a good, positive and happy 2018. Happy New Year to everyone.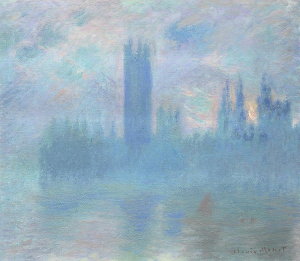 My new year day for the past few years has been a visit to Tate Britain and whatever main exhibition they've had on. This year for the Impressionists in London. I've been before but this is the sort of show I'll happily revisit (and now I am a Tate member, it's free as well). I think that Claude Monet's paintings of the Houses of Parliament are as luminous and beautiful as his famous haystacks. I did not realise he painted so many of them. The exhibition shows off a few near the end and they are really magnificent.
Sun, 31 Dec 2017
A Little Darkness in the Background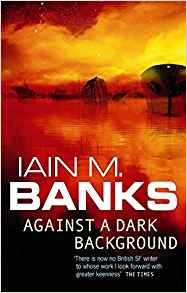 Against a Dark Background
By Iain M. Banks
Score: 3/5
A Banks science-fiction novel but not set in the Culture universe. An aristocrat and her team of ex-military adventurers chase a mysterious book that leads to an even more mysterious, and almost mythical, "Lazy Gun" (the last of eight). Not as stupid as it might sound when laid out like that because being Iain M. Banks it still has much style and some substance. Even if it is not one of his best in my opinion.
Basically a fairly fast paced quest, with action and explosions a-plenty, and a lot of to-and-fro team bonding and banter. Some of it is very good, and there are also good set piece fights and other situations, but the whole never quite gels for me. The ending, even as action packed as it was, disappointed and was somewhat expected. In many ways, the lead character is set up to be extremely unsympathetic: an aristocrat capable of cold and off-hand cruelty. But Banks pushes you to root for her and her gang, and she is written much more sympathetically later on. If you know Banks' politics and worldview, this is slightly odd perhaps.
An accessible Banks book then, but not one of his best or most interesting.
Sat, 30 Dec 2017
Let's Go Crypto
I read a Charles Stross novel a while ago called Glasshouse. Set in the future, a passage in the book stayed with me. Looking back at the historical record and how much information has been stored, saved or lost, he described how a switch to digital storage had caused a big hole in the record because at some point, "for no obvious reason" everything had started to be encrypted. And that's what I thought: for no obvious reason. Why bother encrypting these blog posts?
For the last year or two, a big push has been made by some tech companies, concerned about privacy mainly, to move to securing and encrypting web sites: this uses the HTTPS protocol rather than plain unencrypted HTTP. Google have even gone as far as saying they would favour HTTPS sites over HTTP only, and start pushing in other ways as well.

This web site does not "need" encryption and contains no private or sensitive information, and for this reason I've held back and wondered what all the fuss is about. However, implementing the tech is now a lot less hassle than it used to be, particularly using something like Let's Encrypt, and I've now gone ahead and done it.

Now, when browsing the Sherringham Blog you can rest easy that the little green lock icon means it is much harder for anyone to intercept and change the web pages as they flow to your web browser over the internet.
Fri, 29 Dec 2017
Talk Talk ... Avoid Again
I often use Teamviewer to remotely login and help relatives with various computer problems. It's a very useful application and I'm very grateful that they make it free for home use. Highly recommended.
Just before Christmas, it stopped working for one of my relatives. No ID shown, and it reported a problem connecting to its servers. After a lot of to and fro (it's hard doing technical support to someone who only has basic computer usage skills), I got Skype screen sharing going, which helped. I can't interact with the desktop but I could see what was happening at least and advise. Still, this all takes a lot of time. Errors accessing the Teamviewer web site (SSL secure connection issue?) made me worry about a virus or malware.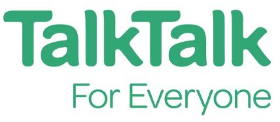 Eventually, a horrible thought dawned on me: Talk Talk might be blocking Teamviewer. I recalled they had done this before and there was an out cry from their users. And it turned out that this was the problem. Talk Talk, worried about internet scammers, have blocked Teamviewer. I found news and some details on The Register, then visited the Talk Talk forums to see all the people affected asking for help. Terrible again. It looks like a DNS block, so I talked my relative into changing to Google's DNS servers (helped by Skype) and got Teamviewer working again. Thanks Talk Talk for wasting hours of my time at Christmas!
Once again, I am just shocked that the company can do this without warning and mess so many customers around. A lot of these customers don't know what's wrong or how to fix, how to "chat online" with support, or call support and hold for help. It's just terrible. I've moaned about them before and, once again, would never suggest people use this company.
Thu, 21 Dec 2017
The Spy Who Came in from the Cold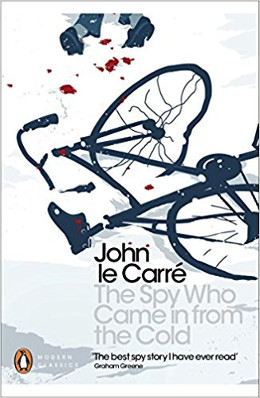 The Spy who Came in from the Cold
By John le Carré
Score: 5/5
The Spy Who Came in from the Cold was le Carré's breakthrough novel of 1963, the one that made his name. When written, the Cold War had well and truly hardened into a very unforgiving and brutal form, albeit one that never got to the point of hot war between the major blocs. The Second World War and its aftermath was a fresh memory and the cynicism that a large number of the population of America and Europe subscribe to today had not yet manifested itself. So a book like this, an unsettlingly harsh look at the reality of the spy "game", was bound to cause a stir. Far from a James Bond world, we have troubling moral equivalence between the methods sometimes used by both sides.
A strong plot and great characterisation is the core of the book. Alec Leamas, the jaded British spy trying to do a last job and destroy his East German nemesis, is beautifully put together, as are his foils, such as the Jewish communist interrogator Leamas learns to somewhat admire. There's a horrible sinking feeling in the pit of your stomach as you know the way the final scene will go. But twists and turns are still to come, even if the sinking feeling never goes away, and there's a final emptiness at the end. A really great novel.
Tue, 12 Dec 2017
Rolling the Dice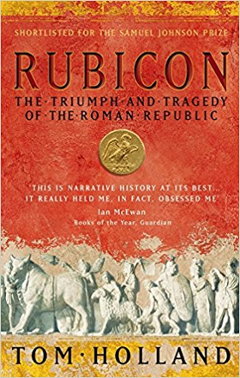 Rubicon
By Tom Holland
Score: 5/5
The late Roman Republic had no shortage of great people and large talents, a usually constant competition to amass the most money and prestige, elbowing out the competition, and in some cases, getting them exiled (or killed). This period of ancient history has held a fascination for a lot of writers and historians over the years and it is easy to see why. The personalities and exploits are often so outrageous that it is quite amazing that they happened over the course of barely fifty years. In a good writer's hands, these stories are still exciting, and sometimes appalling. There is also a lot to recognise from our own times.
Luckily, Tom Holland is a very good writer and historian and has written a superb history book, one of the best I've read. I can thoroughly recommend this, even to those who might be averse to "history". This is the opposite of dry.
Sat, 09 Dec 2017
Portrait Demo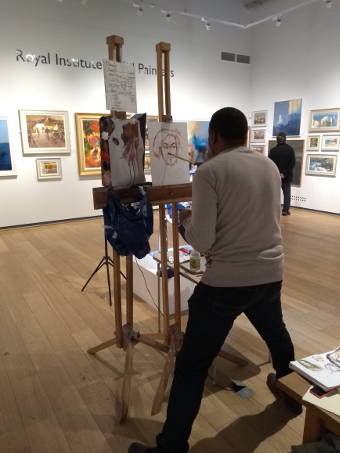 At the ROI show this morning again and artist Adebanji Alade was doing a demonstration of portrait painting in the main space.
He made a great start, capturing a very good likeness. This was a "drawing" phase in thin, diluted brown oil paint, getting the proportions and large shapes down, before moving on to the darks, mid-tones and then lights. He has quite a presence and is very personable and fun to listen to. He made sure to describe the steps he did and why; it was really useful listening to him talk.
He has some work in the show this year and a great web site. This includes some video clips of him painting on the BBC.